Amazon Milk Frog Care
The Amazon Milk Frog is one of the larger tree frogs bred in captivity. They can be found throughout the Amazonian Basin, below 800m in elevation, and were first discovered along the Maracaná River in Brazil.
The name "milk" comes after the milky white secretions that are released from the frog's back when threatened (this rarely occurs with captive-bred animals).
In the past, Amazon Milk Frogs have also been called Mission Golden-eyed tree frog or Gold Mission Frogs, due to black markings on their eyes that resemble crucifixes.
They are arboreal frogs, meaning they spend almost their entire life in the treetops. They are one of the best climbing frogs in the Amazon, using their specially adapted toe pads to cling to branches.
They inhabit the humid rainforest regions. They often inhabit vegetation that extends over permanent, slow-moving water sources.
Quick Reference Section
Experience level: Beginner
Family: Hylidae
Scientific Name: Trachycephalus resinifictrix
Habits: Nocturnal
Size: They grow to be 2.5 to 4 inches long with the females being larger than the males
Lifespan: Captive lifespan of the Amazon Milk Frog is unknown, but suspected to be in the 5-10 year range, based on experience with similar species
Predators: Amazon Milk Frogs do not have natural enemies (thanks to the poison in their skin), except the tadpoles of its species which feed on the eggs
Conservation status: Amazon Milk Frogs are not a significantly threatened species, but they are vulnerable to pollution and habitat loss including forest conversion and logging
Why choose an Amazon Milk Frog as a pet: They are visually striking, easy to care for, and easily handled when mature. However, they can be fragile, and should not be handled regularly
What Does An Amazon Milk Frog Look Like
Amazon Milk Frogs are also nicknamed the Gold Mission Frog because they sometimes, but not always, have a golden ring in their eyes.
Still, yet, they are sometimes called the Panda Bear Tree frog because they sometimes have black and white coloring.
They have a long snout which they use to push foliage aside while searching for food.
Amazon Milk Frog Reproduction
Breeding takes place between November and May. The male will grasp the female around the shoulders. This embrace is known as amplexus.
The male may grasp the female for several days, even if she is not receptive to mating.
The male will call for a second female who lays eggs that will become food for the developing tadpoles.
Breeding
They are not exceptionally difficult to breed but can be difficult to breed consistently.
Seasonal cycling, coupled with a large water volume and heavy feeding, can encourage breeding.
Eggs Laying
Eggs are laid in water and clutch size is generally between 100 and 1000 eggs.
Eggs Hatching
Eggs develop rapidly, and tadpoles hatch in about 24 hours.
Tadpoles Development
After about 2 months in the water, the tadpole morphs into dime to penny size froglets, which are initially gray.
Tadpoles are gregarious and not cannibalistic unless there are dead tadpoles present, and when bred in captivity, they can remain in the same aquarium after they hatch.
Amazon Milk Frog Habitat
Enclosure Requirements
Being large frogs they do require a large enclosure. A 29 gallon aquarium or 18x18x24 terrarium is a good-sized enclosure for 2-4 individuals. They do great in groups.
Overly amorous males may harass females on occasionally, but they typically coexist peacefully in groups.
The enclosure should provide plenty of perching areas. A large water bowl is a necessity.
Substrate
For younger Amazon Milk Frogs prefer moist paper towel or long-fiber sphagnum moss.
Adult individuals can also be kept above water instead of a substrate. All substrates should be changed frequently.
Cleaning
To clean the enclosure you can use TetraFauna AquaSafe Reptile & Amphibian Water Conditioner.
Temperature
Amazon Milk Frogs do like a more advanced habitat system to make sure their humidity, temperature, and lighting don't fluctuate.
They can tolerate temperatures between 70-85F, and seem very tolerant of temperature swings. Ideally, keep them in the mid/high 70s.
A 5-10F temperature drop at night is ideal.
Lighting
Amazon Milk frogs are nocturnal, so they do not have special lighting requirements.
However, it is advisable to keep a regular light-dark cycle; 12 hours of light and 12 hours of dark works well.
Humidity
Adult Amazon Milk Frogs can handle a wide range of humidity levels but prefer humidity levels around 50-70% with plenty of ventilation/air movement.
Young Amazon Milk Frogs do much better with 70-80% humidity and some air movement.
Moist, stagnant air is a big no-no with milk frogs, while very young animals dry out easily. Routine spraying and a full-screen top will aid in providing proper humidity levels.
Some keepers choose to keep Amazon Milk Frogs over water to aid in maintaining humidity.
Use a hygrometer inside the tank to measure the relative humidity.
Feeding
Amazon Milk Frogs are voracious eaters, consuming anything that moves and fits into their mouths.
They eat a wide variety of live invertebrates. You can grow fruit flies to feed them but they also like earthworms, crickets (learn to breed crickets), and house flies.
Insects can be gut loaded in advance. Products like Zoo Med Reptivite can offer your frog calcium to ensure healthy bone growth.
With the correct 2:1 calcium to phosphorus ratio together with the amino acid complex all the vitamins and minerals your pet frog requires will be able to grow and stay healthy.
Interesting link: https://www.amphibiancare.com/frogs/caresheets/amazonmilkfrog.html
Temperament & Handling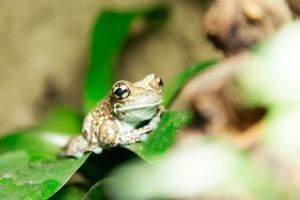 Handling young Amazon Milk frogs is not recommended, but adults will tolerate occasional handling.
However, as they are particularly sensitive to being handled, just do so if you absolutely must, and wear gloves to protect their skin.
These frogs are thusly named because of a poisonous, milky substance they excrete when they are threatened in the wild. Even if this is not something you are likely to see in a domestic setting, gloves help also to avoid contact with this substance.
Health Concerns
In general,the majority of diseases of amphibians maintained in captivity will relate directly or indirectly to husbandry and management.
This is partly due to the high permeability of their skin; they are very susceptible to toxic insult, and a variety of chemicals may be problematic in wild or captive animals.
Some of the more common amphibian diseases with bacterial etiologies include bacterial dermato septicemia or "red leg syndrome," flavobacteriosis, mycobacteriosis, and chlamydiosis.
The most common viral diseases of amphibians are caused by ranaviruses. Mycotic and mycotic-like organisms cause several diseases among amphibians, including chytridiomycosis, zygomycosis, chromomycosis, saprolegniasis, and ichthyophoniasis.
Protozoan parasites of amphibians include a variety of amoeba, ciliates, flagellates, and sporozoans.
Common metazoan parasites include various myxozoans, helminths (particularly trematodes and nematodes), and arthropods.
Commonly encountered non-infectious disease etiologies for neoplasia, absolute or specific nutritional deficiencies or overloads, chemical toxicities, and inadequate husbandry or environmental management.
Of the specific dietary problems that affect amphibians, some of the more commonly encountered challenges are the vitamin and mineral imbalances related to metabolic bone disease. Specifically, these imbalances include the failure to ingest or adequately process vitamin D3, calcium, or phosphorus to maintain them in the proper ratios.
Elevated levels of vitamin A may also interfere with the normal metabolism of vitamin D and contribute to metabolic bone disease.
Most often, however, the metabolic bone disease is caused by low levels of calcium or improper calcium: phosphorus ratios in the insect prey (Wright and Whitaker 2001).
Many insects used as food or prey, including mealworms, waxworms, earthworms, and fruit flies, have low levels of calcium or imbalanced calcium: phosphorus ratio (Barker et al. 1998).
It is possible to correct this calcium deficiency by feeding the insects calcium-rich food or by dusting the insects with a calcium-rich powder.
Source: Diseases of Amphibians Christine L. Densmore, David Earl Green ILAR Journal, Volume 48, Issue 3, 2007, Pages 235–254, https://doi.org/10.1093/ilar.48.3.235
Signs Of A Healthy Amazon Milk Frog
Hides often
Eats vigorously
Clear eyes and smooth skin
* keep in mind that this is a nocturnal species, therefore it is more active during night-time
Red Flags
Loss of appetite
Hazy or cloudy eyes
Does not scape away from capture
Weight loss
Interesting Facts
Amazon Milk Frogs will typically shed at least once a week. They'll develop a shiny appearance for a few hours, before using their legs to peel off the old skin, then eat it.
During this time, the milk frog will generally hang out at the bottom of the tank. Do not be alarmed – this is completely normal behavior, even though it looks a little strange!
Price and Availability
Amazon Milk Frogs are fairly well established in the US Herp hobby.
Captive-bred relatively frequently, milk frogs can be difficult to locate for sale at times but are generally available at Josh's Frogs for $49,99.
Amazon Milk Frog Care Video
Conclusion
The Amazon Milk Frog is one of our top frogs when it comes to choosing one as a pet. They are easy to care for, not picky eaters, and just look cool.
Other cool frogs which also make great pets include the Gray Tree Frog, Oriental Fire-bellied Toad, and of course the Horned Frog. Be sure to check out our best pet frogs article to see all of our favorites!
What frog do you own or plan on getting? What made you choose that or them? We love hearing from you so let us know in the comments below!
More stuff