There are 7 different types of frogs in Hawaii. All of the species in Hawaii are invasive, as the state originally had no native frogs.
The lack of natural predators and no competition from local species has given some of the invasive frogs a chance to thrive in Hawaii. Some of the frogs in Hawaii managed to find their way into the state by accident.
One example is the greenhouse frog, which is known for being invasive and traveling by way of imports. Other species like the Green and black poison dart frog were introduced to help control the populations of pests like insects.
While not many species exist, there are still plenty of frogs to be found in the island's habitats. In this article, you will find all 7 of the invasive Hawaiian frog species and useful facts about each one.
Table of Contents
Here are all the frog species in Hawaii:
Frogs In Hawaii
1. American Bullfrog
Experience Level: Intermediate to Advanced
Family: Ranidae
Scientific Name: Lithobates catesbeianus (Rana catesbeiana)
Other Names: Bullfrog
Adult Size: 3.5 to 6 inches
Lifespan: 7 to 15 years
Average Price Range: $20
The American Bullfrog inhabits all islands of Hawaii, first introduced during the 1800s to help control the insect populations. Bullfrogs are an extremely invasive species and are adaptable enough to live in a variety of habitats.
Freshwater habitats like rivers, marshes, streams, ponds, and man-made lakes are where they can be found. Before coming to Hawaii they were first living in Northern California.
Bullfrogs are the largest species of frogs in North America, some getting as large as 8 inches but that is rare. They are greenish to brown or can be a lighter shade.
They have large limbs, eyes, and bodies. Their feet are webbed. On the side of their face is an exposed eardrum, that is twice as large on males. A dark mottled pattern is on their back, as well as skin folds just behind their eyes.
These frogs will eat anything they can fit in their mouth. They are extremely aggressive and will feed on a variety of animals like snakes, insects, birds, bats, and other frogs.
In Hawaii, they can feed on a plethora of animals since there are no native species of frogs. Bullfrogs are extremely invasive due to their nature and can be found all across North America.
2. GreenHouse Frog
Experience Level: Advanced
Family: Eleutherodactylidae
Scientific Name: Eleutherodactylus planirostris
Other Names: Euhayas planirostris
Adult Size: 0.5 to 1.25 inches
Lifespan: N/A
Average Price Range: N/A
Greenhouse frogs are native to Cuba but can be found in Hawaii being invasive.
They were originally introduced by way of shipments of tropical plants and are known to be an invasive species in areas across the U.S. Greenhouse frogs live in areas with moist leaf litter. A lot of times they will inhabit areas near humans but will not be seen as much since they are nocturnal.
This frog is a very small species and will only get a little bit larger than an inch at its biggest. Olive, brown to a light brown is their coloring.
They have two stripes running down their back with a slightly mottled pattern. On their belly is a pale white color, and their most notable feature is their eyes, which are red.
Small insects like ants, spiders, beetles, mites, and roaches are what they feed on. Being so small they are vulnerable to larger predators like bullfrogs or predatory birds.
To save their eggs from being eaten by predators they are laid under debris like logs, or even in flowerpots. This species often spreads its eggs across the world by laying them in pots that are shipped to other areas.
Adult frogs may try to protect their eggs by staying nearby and watching for threats.
3. Wrinkled Frog
Experience Level: N/A
Family: Ranidae
Scientific Name: Glandirana rugosa
Other Names: Japanese wrinkled frog
Adult Size: 1 to 2.5 inches
Lifespan: 4 years
Average Price Range: N/A
The Japanese wrinkled frog is an invasive species that has found its way onto the Hawaii islands. Originally native to japan they were introduced to Hawaii in the late 19th century.
Ponds, streams, wetlands, and other freshwater habitats are where they live. They were first introduced to the state to fight an insect population and have managed to thrive because of a lack of natural predators and competition. In the wild, they have a lifespan of 4 to 5 years and can lay as much as 3 clutches of eggs a year.
The Japanese wrinkled frog is dark brown to grayish brown and has rough warty skin. It gets its name from the wrinkle texture on its body.
They are a small species, and their belly has small black dots on them. Their body produces mucus that can smell odd if you are near them.
Insects like ants, spiders, and crustaceans are what they eat. Active in the day and night they live mostly near sea level.
In Hawaii, they have managed to build a healthy population and are living in abundance within the state. When the weather is warm and moist that is when they are most active.
It is unknown what their presence has done to the natural wildlife and habitat in Hawaii.
4. Common Coqui Frog
Experience Level: N/A
Family: Eleutherodactylidae
Scientific Name: Eleutherodactylus coqui
Other Names: Puerto Rican coqui
Adult Size: 1.3 inches
Lifespan: 4 to 6 years
Average Price Range: N/A
Native to Puerto Rico, the common coqui frog is an invasive species in Hawaii now found on all islands. First introduced to Hawaii in 1980, it is believed they found their way to the islands by way of potted plants.
This species is highly invasive and has found its way into other states and islands across the world. Areas with leaf litter and ground vegetation are where they can be found during the day.
In the night they move to trees, and in Hawaii, they are usually found near sea level.
Small in size they stay below two inches in length. Females are slightly large, and both genders have light-colored bellies.
Brown with dark speckling is the pattern that appears on their back. Coquis have large toes that help with climbing. As a juvenile, they hatch from their eggs, develop as froglets, and never experience the tadpole stage.
In Hawaii this species has managed to build a strong population, getting as large as 22,500 frogs per acre in some areas. They create a loud noise that disturbs the residents.
This frog is considered a pest and has negative effects on the natural habitat and life within the state. Their large abundance has decreased the population of local insects and plant life.
5. Green-and-Black Poison Dart Frog
Experience Level: Advanced
Family: Dendorbatidae
Scientific Name: Dendrobates auratus
Other Names: Green and black poison arrow frog
Adult Size: 0.75 inches
Lifespan: Dendorbates
Average Price Range: N/A
Green and black poison dart frogs can be found on the island of Oahu and Maui in Hawaii, introduced to help control the mosquito population. They are originally native to Central America but now have a population in the state.
They are semi-arboreal and spend a decent amount of time both in the tree and on the ground. They are popular pets due to their size and color, but should not be handled due to their toxic skin.
Like its name suggests this frog is painted with green and black coloring.
They are small in size and under an inch in length. Their appearances can vary depending on the specific frog and can range from dark to light brown coloring.
The skin of this frog secretes a toxic poison when they are threatened, capable of stopping a human's heart and killing predators.
Mites and small insects are what they feed on and give them their poisonous skin. In captivity, their change of diet makes them unable to secrete a toxin from their skin.
6. Cuban Tree Frog
Experience Level: Advanced
Family: Hylidae
Scientific Name: Osteopilus septentrionalis
Other Names: Giant Tree Frog
Adult Size: 1.5 to 5 inches
Lifespan: 5 to 10 years
Average Price Range: N/A
Cuban tree frogs can be found on the Hawaiian island of Oahu, and are an invasive species in other parts of North America as well. This frog finds its way to other parts of the world by way of cargo ships.
They are originally native to Cuba, the Bahamas, and the Cayman Islands. They can survive in brackish waters, which makes Hawaii and other island habitats a viable home.
Active mostly at night, during the day they will hide and sleep. Estuaries, suburban areas, swamps, forests, and farmlands are some of the areas they inhabit.
This tree frog is one of the largest in North America and can reach up to 5 inches in size. Green, gray, and brown are their most common colors.
Their skins are rough and bumpy, also covered in warts. This frog uses its ability to change color to better blend into its environment. The inside of their thighs is a bright orange color that confuses predators as they leap.
Being so large, Cuban tree frogs eat a wide range of animals and insects. They will feed on anything that will fit in their mouth like insects, small birds, and other frogs. Sometimes they will cause power outages since they will hunt on electrical poles and cause short circuits.
This frog is common in the exotic pet trade and can be bought for cheap. Being so large and eating a wide range of animals they make decent pets.
They can secrete toxic mucus from their skin which can irritate and burn humans so they are not ideal for beginners.
7. Cane Toad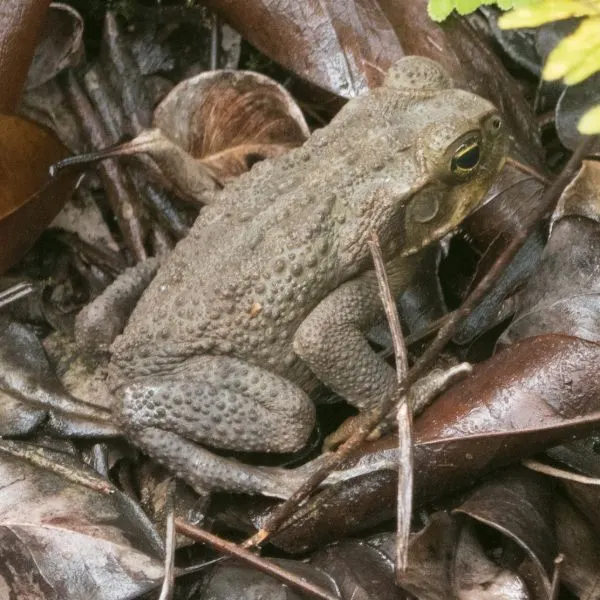 Experience Level: Advanced
Family: Bufonidae
Scientific Name: Bufo marina
Other Names: N/A
Adult Size: 4 to 6 inches
Lifespan: 10 to 15 years
Average Price Range: $50 to $100
Cane Toads are also called marine toads and have been introduced to Hawaii around 80 years ago. Cane toads are native to Central and South America.
They have an invasive nature and have found themselves in areas within the U.S and even as far as Australia. Urban and agricultural areas are where they live.
They do not need much water and live in dry areas. Compared to other Cane Toads around the world, they do not travel as much due to their limited habitat in Hawaii.
Large, warty, and dry, they have short limbs and look like your average toad. Females are larger than males, and individual toads are grey, yellow, brown, or olive-colored.
They have bumpy and rough skin, and warts' colors will vary from reddish to dark brown. Their bellies are cream-colored, and their eyes are horizontal and golden. Younger toads have smooth skin and are darker in color.
Cane Toads are able to secret a white milky toxin from their skin known as bufotoxin. Secreted in small amounts, it makes predators less likely to eat them. Severe damage and death occur if eaten.
The cane toad uses its strong sense of smell to track and catch predators. They also use vision and feed on vegetation, insects, small birds, other frogs, and small reptiles.
Wrapping up
Hawaii has 7 species of frogs living in the state, some inhabiting different parts of the islands. Originally the state had no native species, but over time some have been introduced to the state.
A large number of invasive frogs also gave room for other invasive animals to find a home on the islands. Some of the species bring an unwanted imbalance to the natural ecosystem.
The frogs on this list can be kept as pets but should be held with caution due to their invasive nature. Learning about each species can bring awareness to the issues some of these frogs bring and help solve the problems that come along with them.
The frog species in Hawaii can be fun to find and learn about.
Frogs in other states