There are 7 native species of turtles in Vermont. The Green Mountain State boasts several habitats that are ideal for turtles, including lakes such as Lake Champlain and Lake George, as well as the Hudson River. Vermont's forests are also the ideal environment for some species of turtle.
Only two of Vermont's native turtle species are widespread; the Painted turtle, which is Vermont's state reptile, and the Common Snapping turtle. Other species, such as the Eastern Musk turtle and the Wood turtle, are considered either threatened or of special concern. Here is our guide to the seven native turtles in Vermont.
Table of Contents
Snapping Turtles in Vermont
1. Common Snapping Turtle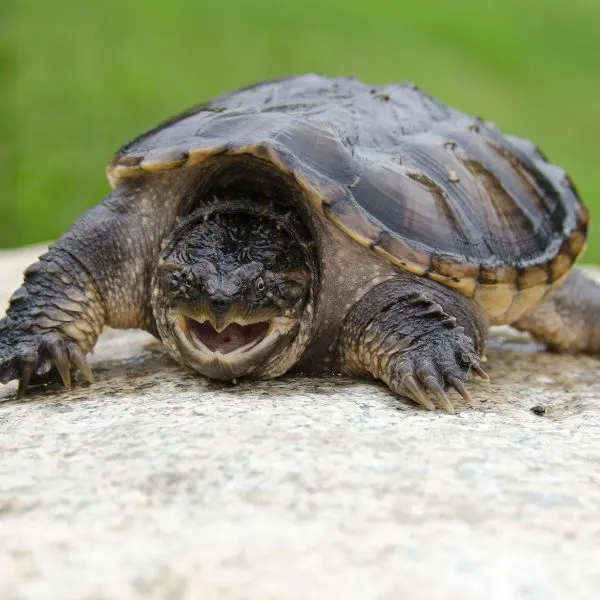 Experience level: Intermediate to Expert
Family: Chelydrida
Scientific Name: Chelydra Serpentina
Common Name: Common Snapping Turtle, Snapper, Eastern Snapping Turtle
Average Adult Size: 8 to 20 inches
Life Span: 30 – 50 years
Average Price Range: Approximately $40 to $120
Conservation Status: Least concern
Common Snapping turtles are a large, freshwater aquatic turtle species that is widespread across Vermont. They can be aggressive out of the water where they feel safest. Signs of aggression include hissing and biting with their powerful jaws.
Snapping turtles will leave the water to search for a place to lay their eggs. They can travel long distances as they search for a place to lay dozens of eggs. During these times they often become victims of motor vehicle accidents.
A snapping turtle's shell doesn't offer much in the way of protection because its head, limbs, and long tail cannot be withdrawn inside.
Identified by their distinctive hooked "beaks", Common Snappers usually have dark brown or green shells. They also have strong claws and long tails that sport saw-toothed ridges.
You most likely won't find snapping turtles basking in the sun. They prefer to bask by swimming close to the surface. Because of this habit of rarely leaving the water, their shells are often covered in moss or algae.
This helps them to stay submerged and ambush their prey. When something edible swims close by, they will shoot their head out like a striking snake and snatch up the food.
Common Snappers are nocturnal omnivores, mainly eating fish, crayfish, frogs, and other aquatic prey. They also consume plants and will even catch and eat small waterbirds if they get close enough. Though this is very rare.
Common snapping turtle numbers are doing well. In some areas where they have been artificially introduced, they can become an invasive species.
Musk Turtles in Vermont
2. Eastern Musk Turtle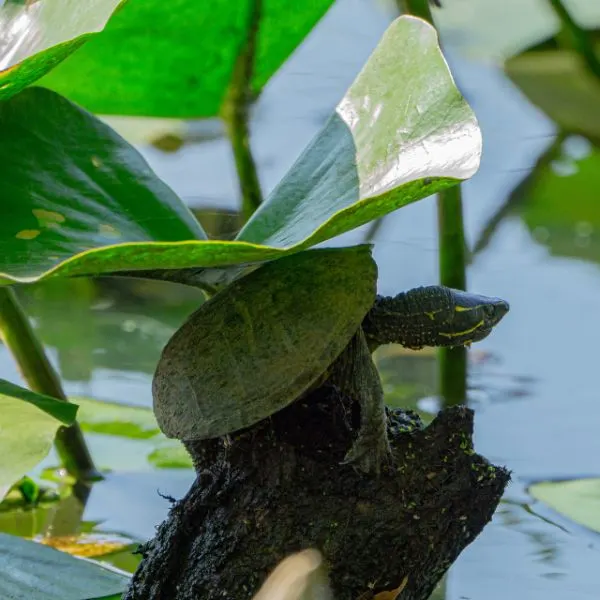 Experience Level: Intermediate
Family: Kinosternidae
Scientific Name: Sternotherus odoratus
Other Names: Common Musk turtle, Stinkpot
Adult Size: 4 to 5 inches (10 to 12.5 cm)
Lifespan: 30 to 50 years
Average Price Range: $30 to $120
Eastern Musk turtles are also known as "Stinkpots" due to the strong smell they can release from their musk glands, which they use to protect themselves from predators. These glands are located near their back legs.
Eastern Musk turtles have dark, unmarked shells. Their heads are also dark, with yellow lines along their cheeks that fade as they grow older. The stinkpot also has fleshy tendrils under its chin.
Musk turtles are considered the smallest turtle in Vermont. They only reach an adult size of about 5 inches long, while many male turtles don't exceed 2 to 4 inches long.
They prefer marshy and boggy habitats and are a rare species in Vermont, found in only a few western areas near Lake Champlain. Their numbers are hard to pinpoint because they rarely bask.
Though the musk turtle is a very aquatic turtle, it doesn't swim very well and prefers shallow, vegetation dense waterways. They often use the vegetation to get around and to reach the surface of the water.
Not only will they crawl up aquatic vegetation, but this species of turtle has also been known to climb trees!
An omnivorous species, Eastern Musk turtles hunt for prey by scent. They mainly eat mollusks, crayfish, small fish, and tadpoles.
Painted Turtles in Vermont
3-1. Eastern Painted Turtle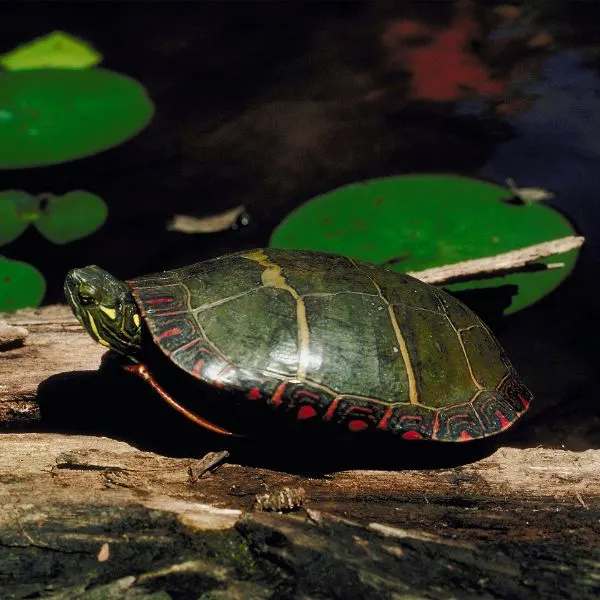 Experience level: Beginner
Family: Emydidae
Scientific Name: Chrysemys picta
Common Name: Painted Turtle
Average Adult Size: 4 – 10 inches
Life Span: 30 – 50 years
Average Price Range: Between $30 to $150
Conservation Status: Least Concern
3-2. Midland Painted Turtle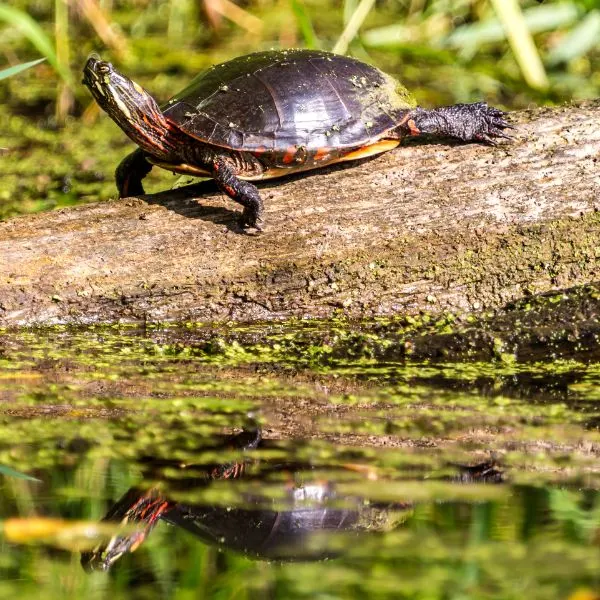 Experience Level: Beginner
Family: Emydidae
Scientific Name: Chrysemys picta marginata
Other Names: N/A
Adult Size: Between 4 and 10 inches
Lifespan: Between 30 and 50 years
Average price range: Between $30 and $150
Two Painted turtle subspecies are common all across Vermont; the Eastern Painted and the Midland Painted turtle. Vermont's official State reptile, Painted turtles have dark shells with bold yellow stripe markings on their faces.
Painted turtles like lakes and ponds with soft bottoms. It is often hard to distinguish between Eastern and Midland Painted turtles, but Midlands usually have darker shadows on their plastrons.
Another way to distinguish the two is to check their scutes. The Midland Painted turtle has alternately arranged scutes, while the Eastern has scutes that are neatly arranged straight across its back.
These two subspecies of turtles' ranges often overlap and cross-breeding happens occasionally.
Mainly an aquatic species, Painted turtles stay near the water and spend a lot of time basking. They spend so much time in the sun, partially because they need to get rid of leeches that attach themselves to the turtles.
Painted turtles are omnivorous and mainly eat mollusks, frogs, and underwater invertebrates such as the leeches that try and feed on the turtles. These turtles, especially juveniles eat many insects and help to regulate the insect population. As they grow older, painted turtles start consuming more vegetation.
Softshell Turtles in Vermont
4. Eastern Spiny Softshell Turtle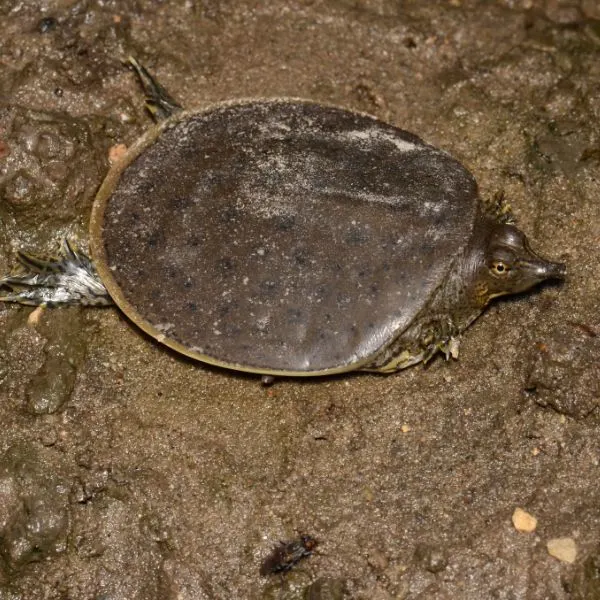 Experience Level: Intermediate to Expert
Family: Trionychidae
Scientific Name: Apalone spinifera
Other Names: N/A
Adult Size: 5 to 9 ½ inches for males, 10 to 20 inches for females
Lifespan: Between 20 and 50 years
Average Price Range: Between $20 and $120
Eastern Spiny Softshells are the subspecies of Spiny Softshell that are native to Vermont. They are found mainly in scattered northwestern counties and are considered a special concern in the state, though they are listed as the least concern in other areas of the US.
Spiny Softshell turtles have a pancake-like shell with dark circles or rings throughout. They are usually brown, or olive green and tend to darken with age. Their skin resembles leather but feels a bit like sandpaper.
They have long, tapered beaks which they use as snorkels, and have long necks that sport a pair of stripes on their cheeks. On each of their front legs, softshell turtles have three long and sharp claws. They use these to defend themselves.
These turtles are very fast swimmers, and even quick and nimble on dry land. Spiny softshell turtles are highly carnivorous, feeding on any crustaceans, invertebrates, and mollusks, but they occasionally eat aquatic plants.
Spiny softshell turtles prefer soft bottomed water holes with a lot of vegetation to hide among. These unique turtles can spend a lot of time underwater as they can absorb oxygen through their skin.
Unfortunately, they have a high sensitivity to lactic acid buildup and need highly oxygenated water to stay submerged or hibernate underwater. When they do hibernate the spiny softshell turtle will find a shallow den near the surface of the water. This way they can still breathe on occasion to help reduce the lactic acid buildup.
Spiny softshell turtles are incredibly dimorphic. Meaning there is a substantial size difference between males and females. The female softshell turtles can be double the size and much heavier than males.
5. Spotted Turtle
Experience Level: Intermediate to Expert
Family: Emydidae
Scientific Name: Clemmys guttata
Other Names: Polka-dot turtle, "Spotty"
Adult Size: 4 to 5 inches
Lifespan: Males up to 65 years; females up to 110 years
Average Price Range: $200 to $300
Spotted turtles are an endangered species in Vermont, but their populations are spread across much of the state. Poaching, small clutch size, and water sensitivity are big reasons this turtle is encroaching on endangerment.
They thrive in slow-moving, shallow waters such as marshes and bogs, but when the water quality declines, these turtles suffer. Spotted turtles are often indicators of water quality.
Spotted turtles spend a lot of time basking, and when they get too warm they might bury themselves in mud to cool off.
Spotted turtles are a small, beautiful species. Their smooth shells are black, covered with their eponymous bright yellow dots. Their plastrons are yellow with large black patches of varying sizes on either side.
Baby spottys are born with a single yellow spot located on each scute, but more appear as the turtle gets older. Some mature turtles can have hundreds of these bright dots speckling their shells.
This omnivorous species often eats invertebrates, crustaceans, mollusks as well as vegetation. Mosty carnivorous, they will eat nearly anything and have been known to eat millipedes and earthworms as well as fruits and seeds.
6. Northern Map Turtle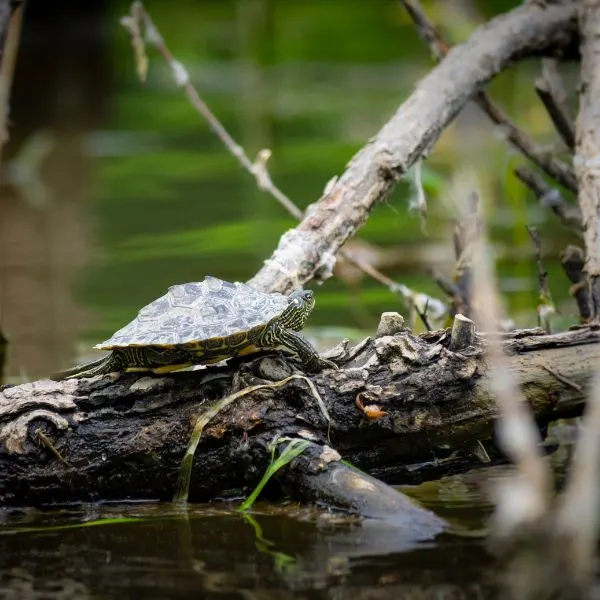 Experience Level: Beginner
Family: Emydidae
Scientific Name: Graptemys geographica
Other Name: Common map turtle
Adult Size: Between 4 and 10 ½ inches
Lifespan: 15 to 20 years
Average price range: Between $20 and $60
Northern Map turtles have dark brown or olive green shells and are named for their yellow markings, which resemble the contours of a map. Yellow spots behind the eyes and a lack of red markings separate the Common Map turtle from other subspecies.
A single ridge goes down the back of the carapace as well as a saw-toothed edge. As the turtle ages though, the ridge, the "map contours," as well as the saw-toothed shell all start to fade away, making a distinction between species more difficult.
In Vermont, Common Map turtles have a status of concern and are confined to extreme western areas near Lake Champlain. They are a mainly aquatic species. They like to bask and are great swimmers.
These turtles are mainly carnivorous, feeding on carrion, fish, and aquatic invertebrates like crayfish.
Unlike other species of map turtles, the common map turtles tend to hibernate in open water rather than bury themselves in mud.
7. Wood Turtle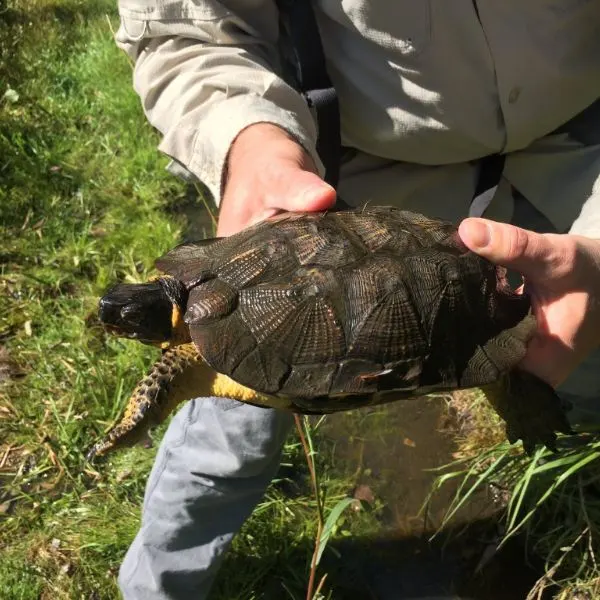 Experience Level: Intermediate
Family: Emydidae
Scientific Name: Glyptemys insculpta
Other Names: N/A
Adult Size: 5.5 to 9 inches
Lifespan: 40 to 60 years
Average Price Range: $250 to $500
Wood turtles are named partly because of their shells, which feel like they're made of wood. Their pyramid-shaped scutes look sculpted, with patterning that looks similar to the growth rings on wood. Another reason for their name is the habitat they live in. While out of the water, wood turtles live in heavily forested areas.
The wood turtle is mostly brown on the upper side, but they can have flashes of bright colors such as red, yellow, and orange. In fact, they have bright plastrons with dark patches on the outer edges.
Wood turtles are intelligent, inquisitive turtles, but are a species of special concern in Vermont. Their numbers are dwindling quickly, so scientists have designed special GPS units for them to find out why.
These little turtles are semi-aquatic and don't spend much time in the water unless they are hibernating. The rest of their time is typically spent on land, traveling long distances to find food such as earthworms, fundus, flowers, crayfish, and berries.
While these turtles go on their "walkabouts," they become victims of cars and poaching. Adult wood turtles don't have any natural predators, their numbers are dwindling mostly because of humans.
When it comes to baby wood turtles and new generations, most wood turtle nests are completely destroyed before any can hatch. Predators dig them up and eat the eggs, and people disturb nests, which can ruin any viable eggs.
When reptile eggs are turned around or disturbed, the embryo can detach from the shell and perish inside before it even has a chance to be born.
Another problem that hinders reproduction, is the wood turtle's slow maturity. It may take a young wood turtle up to 20 years to become sexually mature. And when they finally do reach that maturity, there are very few turtles available to mate with.
Wrapping up
In this list, we have covered the 7 native species of turtles in Vermont. From common and widespread Painted turtles, the official State reptile, to rarer species such as the Eastern Musk turtle, and the Wood turtle, Vermont is home to several fascinating types of these shelled reptiles.
While you are out in the wilds of the Green Mountain State, keep your eyes open for some of these beautiful reptiles. Just be sure to leave them be and capture them with pictures instead of handling them.
Did you enjoy this list? Looking to find some of these turtles to add to your reptile collection? Then please feel free to comment below and share your thoughts!
Other nearby states